A Treasury Of Urdu Poetry – Kuldip Salil
Author : Kuldip Salil
Genre : Poetry, Ghazal, Literature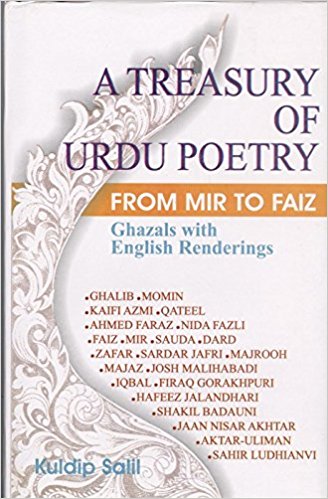 How can any list of literature ever be complete without Urdu poetry? Urdu, a blend of Persian and Hindi, is one of the most beautiful and sophisticated languages I have known. It's a pity the western world may never be able to fully internalise the depth and softness of this language, and especially of the ghazals written in it (for a fuller review of ghazals, see the poetry section in this blog).
I have read dozens of ghazal books but have been generally able to relate to only few of the chosen ones. But Kuldip Salil's collection is different: it has selected ghazals from 34 of the most eminent Urdu poets. And an English translation for each. Difficult urdu words are also translated.
My favourite is Hafeez Jallandhari's ode to youth and its pleasures, written by the same person who also wrote shahnama-e-islam (what bigger proof that religion and a zest for life can co-exist!)
Khayal-e-zuhad abhi kahan        [Zuhab – ascetism]
Abhi To Mai Jawan Hoon (see the whole ghazal in poetry section)  https://www.nishantsaxena.in/abhi-to-mai-jawan-hoon-hafeez-jalandhari/                                                                         Ghalib is always amazing, highlighting for everyone the hypocrisy of our society:
Kahan Maikhaane ka darwaaza, Ghalib aur kahan waiz [Waiz – Preacher] , Par itna jaante hain, kal wo jaata tha ki hum nikle
Bashir Badr reminisces on the vagaries of life:
Kai meel rait ko kaat kar, koi mauj phool khila gayi    [Rait – Sand, Mauj – Stream], Koi ped pyaas se mar raha, hai nadi ke paas khara hua
Iqbal then steps in with his clarion call to us: arise and awake
Sitaron se aage jahan aur bhi hain, Tu shahi hai, parwaaz hai kaam tera [Shahi – Eagle; Parwaaz – Flight] ,Tere saamne aasman aur bhi hain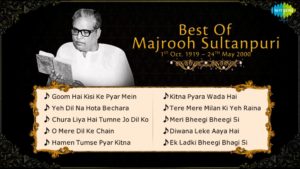 Majrooh Sultanpuri, Bollywood's famous poet, comes in with his romance:
Mujhe sahal ho gayin manzile, woh hawa ke rukh bhi badal gaye              [Sahal – Easy], Tera haath haath mein aa gaya, sau chiraag raah mein jal gaye
And what ghazal collection can be complete without the pain of a lover. Momin writes:Woh jo hum mein tum mein karaar tha, tumhe yaad ho ki na yaad ho   [Karaar – Love], Woh hi vaada yani nibaad ka, tumhe yaad ho ki na yaad ho [Nibaad – Loyalty]
If Urdu poetry and ghazals do sound exciting to you, definitely visit Rekhta.org and ekfankaar.wordpress.com. Good selection, English meanings and often audio renderings too.
Why should you read it: Urdu poetry offers a verse for all the vicissitudes of life. Love, Tragedy, God, Country, Courage…  Literature helps you appreciate the part of life that science can't. Pick your favourite shayari and use them at the right moment. Be the cynosure of all eyes in a party!
Goodreads Link: A Treasury of Urdu Poetry by Kuldip Salil | Goodreads