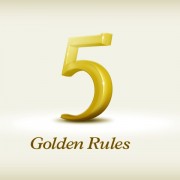 Organizations – both big and small – spend billions of dollars on Training. Yet, CEOs and HR Heads keep complaining that the effect of training rarely lasts. After the initial high, most employees tend to go back to their old ways, and so over a 3-6 month period, there is hardly any visible difference.
Most trainings have two primary reasons – either people are not performing as effectively as they could; or because people need to learn new skills in anticipation of future responsibilities. In both cases, training is a just a tool for the larger expectation that people will do their jobs better. Hence the central validation question is: Did the training make a measurable difference?
Here are 5 tips to ensure this measurable difference, a real long-term impact –
"Leadership: getting people to do what you want them to do, because they start wanting to do it."
"Leadership is the art of getting ordinary people to deliver extraordinary results."
How many of our middle managers can claim this level of leadership? But Leaders – who take full ownership of business results and do not fail to meet targets, aggressively improve processes, build strong relationships and networks, inspire others, coach and mentor juniors, and finally help their unit scale new heights – are needed at every level. Unfortunately, many companies keep lamenting on the 'Leadership cliff' beyond the CXO team. And many careers hit a glass ceiling – employees who performed well at junior levels are unable to deliver equally stellar results as their span of control increased. Employees work harder but are not appreciated by management, which, in turn, is frustrated that employees are not performing to increased expectations.
Why does this 'Leadership Deficiency' happen?
Background:
In most large companies, the corporate finance group is disparagingly called 'Bean Counters' – because they are mainly involved in accounting and reporting. They look from the rear view, after reality has happened and, most of the time, are merely doing 'number crunching'.

In best of companies, however, finance also plays a Venture Capitalist role – analyzing business opportunities and initiatives and helping Business Heads take the "right" decisions, differentiating between good growth and bad growth. They 'analyze' numbers and present insights – not just information but how that information can be used to improve profitability.
This 2 day workshop will help the finance team move from a mere reporting role to a true business partner role, thereby increasing their impact/influence on business, and also satisfaction with their roles.
With all the macroeconomic challenges, companies are struggling to show higher profitability. And yet, a structured intervention to objectively assess and optimise each cost item, often results in 2-5 per cent improvement in profit margins. For a typical Rs 3000 crore company, this may be equal to Rs. 50-100 crores extra cash every year! Some ideas based on our consulting experience :