Author: Ram Charan, Larry Bossidy
Genre: Management
To start with the famous quote by Steve Jobs "To me, ideas are worth nothing unless executed". And yet, many of us are guilty of making grandiloquent plans only to fail in execution. The end results do not come and, while we can all blame environment and other departments, our credibility takes a dip.
This book can help create great results – not just in professional but even in personal life where execution lag results in multiple issues (the final outcome being lack of satisfaction and happiness).
The authors Ram Charan (IITK, Harvard MBA, "one of the most influential consultants alive", Global Indian of the year 2010, author of 3 bestsellers which sold 2m copies) and Larry Bossidy (GE, CEO for Allied signal, delivered 31 consecutive quarters of earnings-per-share growth of 13% or more, CEO of the year 1998 by Chief Executve ) are a dream combination of practioner and professor.
One of the examples cited is the Execution difference which led to the high of JP Morgan Bank and low of Citigroup. Every leader needs to have certain Metrics in place which help measure performance. Interesting pieces cited on advantages of having Monday morning calls, Quarterly/half yearly reviews and finally the importance of follow-through. One of the most important aspect is to ask questions, to connect the dots and leave a meeting with a clear action plan which again needs effective follow-through.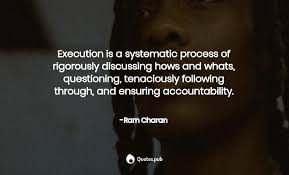 Building block One: The Leader's 7 essential behaviors
Know your people and know your business: Be an accessible leader, share as much information as possible. Create a culture to probe – that's where learning happens. Effective people learn from reviews, there is a feeling that the leader cares. Writing a letter to your direct reports after a review is a suggested effective mechanism
Insist on Realism: There would always be uncertainty, survival and growth demands ground-level intelligence. Always know your competition well
Identify Clear goals and Priorities: Along with it 'Know your Risks and plan to mitigate'
Follow-Through: Enough emphasis has been given to this piece to ensure a task gets accomplished, however very few follow it to the end
Reward the Doers: Never forget to incentivize the performers. Be ruthless in ensuring each person in the organization has a development goal and it gets achieved
Know Yourself: Ensure you listen, know your blind spots (have complementary skill people). Humility and containing your ego is an everyday self-check
Building block Two: Creating the framework for cultural change. Cultural change gets real when you aim for execution – tell people what results are required, then discuss how to achieve them, have coaching for development areas, have appropriate rewards and follow-through.
Define when meetings should take place for operational strategy/review – leaders should circulate memos 2 days in advance and be prepared for many questions/debates.
Building block Three: The Job no leader should delegate – have right people in right place. Leaders (CXOs) need to spend 20-40% of their time on people – develop them, move them (lateral/vertical), keep testing them. Very rightly mentioned that if same amount of time is devoted to people agenda as we do for budgeting and other exercise, the payoff would be enormous.
While hiring important positions, do you simply rely on HR reference check or make a few calls yourself – quintessential to ensure you get the right person for the job. Another important piece is that while you do a year-end review and find a person has surpassed all targets, but left behind a burnt-out and dysfunctional team – ensure the rewards are withheld.
Role of HR is extremely critical. A successor should be well in place for critical roles – such that you can announce successor within 24 hours of the person resigning.
Why should you read this book: Every individual who wants to leave a legacy, needs to master the link between ideas and results. This is especially critical in companies where back end processes are still evolving. Often when senior leaders come from outside, they focus mainly on big picture thinking and people. And undermine regular reviews and governance meetings. As a result, the future looks all bright and rosy but hard results in the short term keep lagging. Even investors can get help in their assessment of their portfolio's management teams.
Goodreads Link: Execution: The Discipline of Getting Things Done by Larry Bossidy | Goodreads