Author: Naina Lal Kidwai
Genre: India, Current Affairs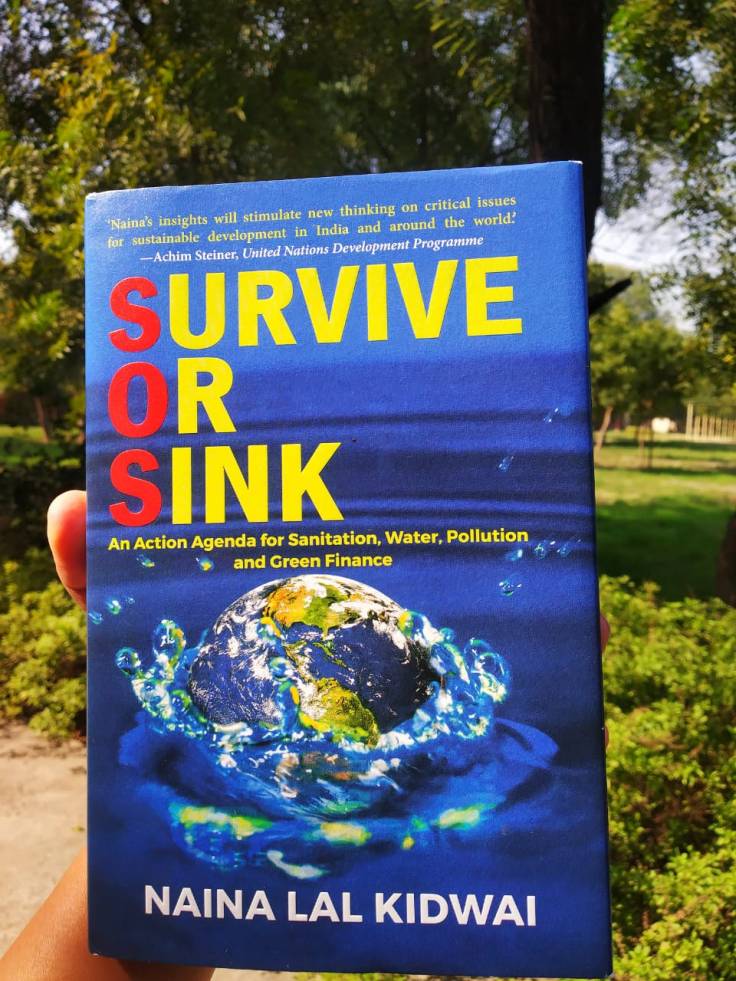 Who doesn't know PadmaShri Naina Lal Kidwai. India's first woman MBA from Harvard Business School, was also India's first woman FICCIPresident, and also India's first woman as Head of a foreign Bank (Chairperson of HSBC India). After retiring from active corporate, Naina announced she will devote 50% of her time trying to make India better. Her focus is on the real problems our once beautiful country faces: Water & Sanitation; Environment & Pollution; Green economy & Finance.
This is an agenda many of us relate to. Despite all our love for our motherland, we have been frustrated with the myriad challenges of living here: constant smog, dirty roads, traffic congestion, senseless honking, crippling infrastructure, poor management… the list is endless. And many evenings I have wondered why people like us just tolerate it, why don't we do something about it. Civil society as a pressure group is almost absent here.
Well, Naina sets an example to all of us guiding us to proactively do something instead of just cribbing. [She also sits on the board of Cipla, and after our recent strategy offsite gifted this book, Survive or Sink, with the tall order: That you may inspire countless others to follow on your footsteps.]
Like an experienced banker, she starts Survive or Sink with an SOS on some very disturbing statistics:
3 children under the age of 5 die every minute in India. Unsafe water is the major cause of this, due to chemicals from industrial waste (fluoride, arsenic) and bacteria (from untreated human excreta).
India has the highest incidence of stunting where 40% of our children fail to achieve their full physical and mental growth.
25% of India is still defecating in the open with no toilet or sewage system connections. 75% of 1.75m tonnes of faecal waste generated every day – human excreta and water mixture that bears disease carrying bacteria and pathogens – remains untreated and is dumped into drains, lakes and rivers posing a serious threat to health.
Only 20% of domestic and 60% of industrial waste is treated, rest is discharged without treatment. As a result, Groundwater resources in vast tract of India are contaminated with fluoride and arsenic.
UN has ranked India 120th of 122 countries for water quality estimating that 70% of our water is contaminated. Half of our 445 rivers are too polluted for safe consumption and not even one has water fit for drinking without extensive treatment.
Half of the most polluted cities of the world are in India. (See Wikipedia ranking, 9 of top 10 are in india, topped globally by Delhi).
In an exercise done by Ministry of Urban Development, none of the 423 cities that were rated were found to be healthy and clean. In fact 190 were found to be on the verge of environmental crisis.
The idea to share this dark underbelly is not to disillusion, but as a wake-up call, to spur us into action. Naina then gives multiple examples of how there are silver linings.
Swachh Bharat Mission, beyond the publicity gimmick, has yielded real results: The number of open defecation-free (ODF) villages has gone up from 47,000 to 384,000 over the same period—about 65% of all villages in the country. Seventeen states and Union Territories (UTs) are now ODF.
There are also multiple examples of how corporate employees are trying to bring about a change. Tata Group is doing a lot. And many factory workers have taken the onus to educate the villages nearby.
I was very energised by the biomass example where private enterprises can pay communities to collect and dispose of their waste because they in turn make fuel or fertilizer from this waste. Capitalism at its best!
There are also deep insights. While a lot of progress has been made in villages, "problem in urban slums is even worse. Close living proximity and crowded conditions, open drainage and lack of maintenance…. contribute to the outbreak and spreading of diseases."
Another aha moment: For many households, health is not a strong motivating factor for toilet construction, but social pressure is. Hence the need to involved faith based organisations. Also, how movies like Toilet: Ek Prem Katha are bringing these core issues to mainstream discussion while also being economically attractive for producers.
The book is a collection of articles and papers published in various places and so can be repetitive. Same statistics comes in multiple chapters. Some of these articles were probably used in policy documents and hence can be full of procedural matters and acronyms. I wish the publishers had done a better job in editing to bring out core messages succinctly and in a language, that creates the maximum impact amongst readers. But let us not to be too harsh, and look at the golden intent and passion. We need many more Nainas to champion these serious issues.
Why should you read the book: India is a land of paradoxes and often privileged people like us are oblivious to how dire the situation is. Read the book to understand the challenges facing the real India. More importantly, to get inspired and understand the positive role corporates and citizens.
Goodreads Link: Survive or Sink by Naina Lal Kidwai | Goodreads