The Power Of Full Engagement
Author: Jim Loehr and Tony Schwartz
Genre: Self-Help, Mangement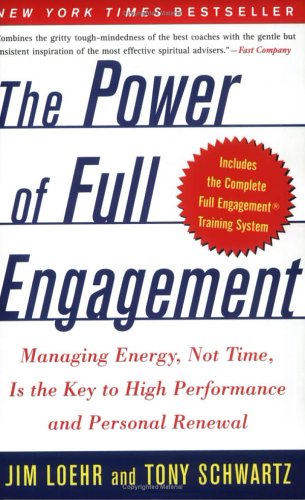 Dr. Jim Loehr has authored over 16 books, and teaches the ground breaking 'science based energy management training system'. Clients include Fortune 500 companies like P&G, PepsiCo, GlaxoSmithKline, Citibank, and also FBI!! On the other hand co-author Tony Schwartz is an American journalist and business book author. He has written over 7 books most popularly : ghostwriting Trump: The art of the deal. He is also the founder of non-profit organization Catalyst Inc. which works towards building inclusive workplaces for women and businesses.
Apparently, in Procter & Gamble before, there was a training around this book that senior managers underwent along with their secretaries. The idea is to help improve the energy, and hence the output of senior managers.
In the hustle and bustle of our day to day routine, we often worry about time instead of energy. In this book, the author has brought forward some interesting perspectives in the management of energy versus management of time. He vividly writes 'Managing Energy, Not Time, Is the Key to High Performance and Personal Renewal'.
The Power of Full Engagement centres around the athlete metaphor: in order to achieve high performance in our lives, we must constantly seek incremental improvements, and push beyond our normal limits by training in a systematic way just like athletes.
The author says that each of our thoughts, emotions and behaviors has an energy consequence, for better or for worse, and the ultimate measure of our lives is not how much time we spend but how much energy we invest in the time that we have. Reality is that our fast paced life has many energy drainers: Stressful meetings, Fast paced deadlines, Evaluating business risks, Relationships at office and home, Guilt over not giving enough time to loved ones, Responsibilities at home which start just when you want to take a rest from office in the evening, Health issues that may keep popping up from time to time, Insecurities financial and emotional and so on. The authors suggest that the key to effectiveness is managing these well, and not just trying to be efficient with time and become overloaded by fitting it all in.
The premise of this book is simple: PERFORMANCE, HEALTH AND HAPPINESS ARE GROUNDED IN THE SKILLFUL MANAGEMENT OF ENERGY. The author also emphasizes on the need to realise that we have more control over our energy than we believe we have.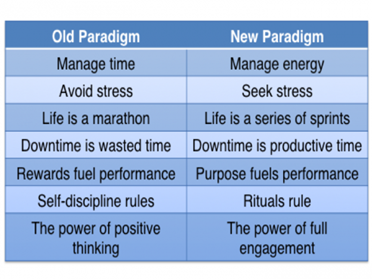 We all have the same amount of time with us in a day, however the quality and quantity of energy available to us differs based on how we optimize our most precious resource: Energy. To be fully engaged, we must be physically energized, emotionally connected, mentally focused and spiritually aligned with a purpose beyond our immediate self-interest.
Here the author has shared 4 principles:
Principle 1: Full engagement requires drawing of 4 separate but related sources of energy: physical, emotional, mental and spiritual. Physical through exercise and right eating; Emotional through spending time with loved ones; Mental through reading and gaining expertise; and Spiritual through meditation or praying to whatever we believe in. Spending time systematically on developing these 4 directly improves our Performance at work and beyond.
Principle 2:  Energy can diminish with both overuse as well as underuse; hence people must balance energy expenditure with energy renewal.
Principle 3: In order to build capacity, we must push our limits,  we must train ourselves similar to athletes.
Principle 4: We must follow positive energy rituals; highly specific routines for managing energy are the key for full engagement and sustained high performance.
Five major performance barriers: Low energy, Impatience, Negativity, Lack of depth in relationships and Lack of passion. Energy, both positive and negative, is highly infectious and negativity feeds on itself.
One must also be cautious of those little energy drains that, over time, reduce our effectiveness. "It is not the intensity of energy expenditure that produces burnout, impaired performance and physical breakdown, but rather the duration of expenditure without recovery".
The other caution is linked to slowing down in the busiest of times. "There will always be one more thing to do, but when people don't take time out, they stop being productive." We live in a world that celebrates work and activity, ignores renewal and recovery and fails to recognize that both are necessary for sustained high performance. Some successful senior managers in Cipla and beyond have an entirely parallel routine for this renewal: example going on hiking or regular gym/swimming or motorcycle riding etc.
Our Capacity to be fully engaged depends on our ability to periodically disengage, the challenge is to consciously and deliberately create new boundaries and shift beyond our focus from achievement to restoration. Intermittently disengaging is what allows us to passionately re-engage. Example, in Cipla, I have seen some leaders taking a walk at PBP after every difficult meeting or talking to their family just after a stressful engagement. Overtime we resist precisely what would make us more effective: taking breaks and seeking restoration. In effect, we get stuck in overdrive, unable to turn-off the engine.
Any addictive behaviour (including work prompts) a highly linear form of energy expenditure. The key to expanding capacity is both to push beyond one's ordinary limits and to regularly seek recovery, which is when growth actually occurs.
Why should you read the book: Engagement means a more fulfilling life, and earning the ability to enjoy each moment. It means seizing the power of renewal, and re-igniting our physical bodies. Don't just manage your time; manage your energy. The Power of Full Engagement will show you how.
Goodreads Link: The Power of Full Engagement: Managing Energy, Not Time, Is the Key to High Performance and Personal Renewal by Jim Loehr | Goodreads
(Submitted by Hitiksha Rajawat, formerly EA to Nishant Saxena at Cipla)