Author – Subroto Bagchi
Genre – Management
'The Professional', written by Subroto Bagchi is going to emphasize on what we all claim to be in this 21st century, "Professional".
Before I start with the meaning and the different behavioral aspects that a professional must possess, I think it's imperative to discuss story of a man named "Mahadev".
As is the trend in our developing country, people from villages migrate to cities in search for earning livelihood, a small boy named Mahadev, came with his mother to Bengaluru. Her mother started working as daily wage earner, until after few days she feel sick and died in a government hospital. For little Mahadev, it was not possible to understand what death means and suddenly he was left alone in this world, when one man from the hospital took Mahadev with him and gave him food, shelter and protection, necessary for an infant to survive. Mahadev grew up in and around hospital premises and by chance took up profession of burying unknown dead bodies when one day police paid him Rs. 200 to bury a body. For the rest of his life, Mahadev only did the work of burying unknown bodies for Rs. 200 and was awarded by chief minister of Karnataka for the community service he did and was well acknowledged by society also.
Now coming back to the meaning of the word 'Professional", it comes from a latin word 'professio', which means an oath taken upon entering a religious order.
There are 6 aspects of a true professional:
Integrity– The meaning of the term can be summed up in following four sentences:
We follow the rules.
Where rules do not exist, we use fair judgment
When in doubt, we do not go ahead and do what suits us; we seek counsel.
Finally, faced with difficult choice, we ask ourselves: can my act stand in public scrutiny without causing embarrassment to me and my family?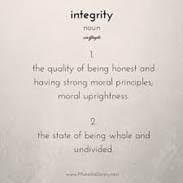 Self Awareness– This means a true professional must be humble, authentic, self-observant, and should be able to take feedback in a constructive way. A true professional should take charge of difficult situation when need arises and must feel responsible.
Professional Qualities– This includes following points:
Good time management
Physically healthy and having control on diet
Maintaining a to-do list of both personal and work related tasks
Ability to say NO, when s/he doesn't have anything to add or learn from a task
Being proactive and self-confident
Making a boring and routine job interesting
Building long term relationships
Managing Volume– This aspect of professionalism basically identifies qualities of how to deal with a problem of large volume of tasks/emotions/competitions.
A true professional must always put human emotions first and foremost
A true professional must always be committed to his commitment
A true professional must be honest and show transparency
Managing Complexity
A true professional knows how to balance his personal and professional life, knows how to handle situations when s/he suffers demise of his close relative and still is able to perform exceptionally well in his/her work
A true professional must be able to question things and should not agree just for the sake of it
A true professional must be a master of both emotion and logic
New world imperative
A true professional must be aware of gender sensitivity issues when working with female colleagues
A true professional must be aware of issue of cultural difference
A true professional must also know the laws related to intellectual property and governance
After going through different aspects of what constitutes a true professional, it can be inferred that Mahadev is a true professional and that's why he has been termed as "The Professional's Professional" by Subroto Bagchi (Co-founder Mind tree, author of "The Professional")
Summary Credits: This summary is written by Sahil Chopra (Nishant's colleague at Cipla). Sahil is an avid traveller, biker, blogger and in his free time, enjoys playing table tennis, reading about Universe and Defence research.