Author: Aravind Adiga
Genre: Fiction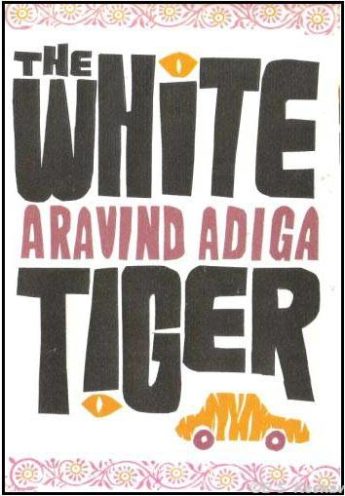 The White Tiger is one of the few Indian novels that won the prestigious Man Booker Prize (2008). Aravind Adiga shares the honour with celebrated fellow Indian writers like VS Naipaul, Arundhati Roy and Salman Rushdie. Educated in Columbia and Oxford, he was a journalist with Time magazine. The book, also on New York Times bestseller, was later adapted into a Netflix original movie.
What gives this book its lasting appeal is its dark humour and delightful wit, tackling serious social issues but without once being preachy. It shows the two Indias – Darkness represented by the backward city of Dhanbad in Bihar and Light represented by the rich and americanized lifestyle of Gurgaon, near Delhi. And what happens when they clash. The story is told by the protagonist Balram Halwai – a poor underdog from the Darkness, then a Driver, Philosopher, Murderer, and eventually a very rich entrepreneur. The book starts as a letter he writes to the Chinese visiting premier signing off as The White Tiger, a thinking man.
The letter explains how to pay off dowry for his cousin, Balram had to leave his school and work in a teashop in Dhanbad, Bihar. He used to eavesdrop people's conversation at the tea shop and that's how he learnt about Indian economy and government. Later he gets a job of a driver at one of the landlord's homes. The incident of how he moves from one of the many servants to the main servant/driver is as dark as it is witty. He blows the cover of existing driver, manipulates others and gets the prized position. In his soliloquy, he expresses remorse for wronging the existing driver but in reality he just "turned the other side, farted and went back to sleep."
Here is a small sample from the book to illustrate Aravind's extremely engaging writing style, as satirical and derisive as it is witty and funny.
"It is an ancient and venerated custom of people in my country to start a story by praying to a Higher Power.
I guess, Your Excellency (Chinese Premier), that I too should start off by kissing some god's arse.
Which god's arse though? There are so many choices.
See, the Muslims have one god.
The Christians have three gods.
And we Hindus have 36,000,000 gods.
Making a grand total of 36,000,004 divine arses for me to choose from.
Now there are some, and I don't just mean Communists like you, but thinking men of all political parties, who think that not many of these gods actually exist. Some believe that none of them exist. There's just us and an ocean of darkness around us. I'm no philosopher or poet, how would I know the truth? It's true that all these gods seem to do awfully little work – much like our politicians – and yet keep winning re-election to their golden thrones in heaven, year after year. That's not to say I don't respect them, Mr. Premier! Don't you ever let that blasphemous idea into your yellow skull. My country is the kind where it pays to play it both ways: the Indian entrepreneur has to be straight and crooked, mocking and believing, sly and sincere, at the same time…"
Driving his landlord's family, Ashok and Pinki, his habit of eavesdropping and listening made him understand how corruption worked in the Indian government. He also learnt that to rise from his poor stature he will need to become an entrepreneur. One drunken night, Pinki madam takes the driver's seat and hits a child. Ashok & his family pressurise Balram to take the blame on himself for the accident. To escape this rooster coop (metaphor used in the book to explain social inequality), he eventually murders Ashok and escapes with a large sum of money (which Ashok had kept in a bag in the car to bribe government). He moves to Bangalore and again does eves dropping in cafes to understand how money is made in that city. He understands the rising BPO industry requires a lot of transportation late in the night. With all the money he had, he opens his own taxi service company by bribing the police there.
Aravind throws in a lot of dramatic irony: In revenge of Ashok's murder, the landlord murders Balram's family. But Balram justifies his own actions and family's death as worth the freedom he got in return. Also, when one of his taxi drivers gets into an accident with a child, he throws money to shut the case. In trying to escape darkness, Balram ends up becoming dark too.
The book remains funny and clever about very intense subjects. The vast challenges India faces – Religion, Caste, Corruption, Poverty – are all highlighted but without ever being pontifical or boring. It also covers themes of freedom, individuality, and globalization. The Booker prize committee said in its citation, "The book gains from dealing with pressing social issues and significant global developments with astonishing humour." Critics complain that Aravind has overcriticized India in some parts of the book (example, he mentions teachers boozing and sleeping in the class) and the book is an incomplete depiction of the growing nation India.
Why You Should Read the Book: Aravind says his novel "attempts to catch the voice of the men you meet as you travel through India – the voice of the colossal underclass." And that "his writing aimed at trying to highlight the brutal injustices of society." So, if you want to know the story of the real India, read this book.
Goodreads Link: The White Tiger by Aravind Adiga (goodreads.com)