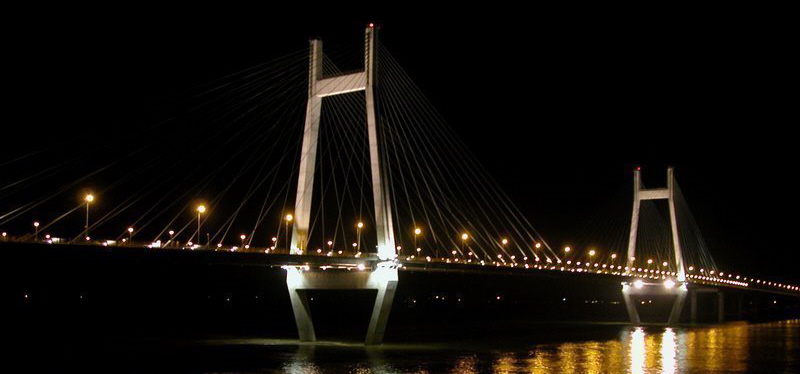 The New Ganga Bridge. Wow! It's been 16 years since I left Allahabad
 My current work draws heavily from my experiences in Allahabad. Every day I saw thousands of graduates from Allahabad University and its affiliate colleges roaming around because they had no work: degree but not a job. On the other hand, at senior levels within corporate world, most of my colleagues complained they desperately needed people but couldn't find the right talent. It was a classic case of 'water, water everywhere… but not a drop to drink.' The basic issue was that the graduates produced by our universities were not really Employable. The industry wanted Corporate Exposure, Grooming and Personality, Spoken English, Thinking-on-the-Feet ability… and that's where students from smaller cities lagged behind. This prompted 17 of us from various IIMs to start India's first chain of finishing schools. Today we have achieved our grand 'Vision 10×10: Making 10,000 Indians Employable by 2010', but the seed was first sown in Allahabad.
The other distinct memory is of my alma mater, St. Joseph's College. Teachers like Mr. Rafeal and Mrs. Gandhi embodied what a good teacher should be: immense knowledge with immense concern for the student. My first brush with leadership was also as college captain at SJC – I realized how much soft skills and personality are important and the practical limitations of bookish knowledge.
Allahabad also has Prof. JS Mathur, the noted Gandhian. I wrote my first paper under his guidance, and it was nominated for presentation in Germany. I have been to 35 countries since, but the fear and excitement of this first foreign trip as a student remains unmatched.
Allahabad gave me my first (and only!) girl-friend. We were neighbours and she was a Muslim. But all family and friends in Allahabad fully supported us on this very sensitive issue – we have now been married for 10 years J.
Interestingly even now many strangers – who have only heard me speak – guess that I am from Lucknow or Allahabad. They say the tehzeeb and refineness in the language of this place is unique.
So yes, proud to be an Allahabadi!
***
Nishant Saxena is the CEO of National award winning, Elements Akademia. He was profiled by Outlook as one of '50 Social Entrepreneurs… Making India Better'. He teaches Finance & Strategy at IIM Lucknow and was formerly the Deputy CFO of P&G India.
https://www.nishantsaxena.in/wp-content/uploads/2013/07/allahabad-1.jpg
300
300
Nishant Saxena
https://www.nishantsaxena.in/wp-content/uploads/2016/04/new-logo-300x105.png
Nishant Saxena
2013-07-14 09:06:28
2017-11-12 06:55:22
Nostalgic about Allahabad (Published in: HT Allahabad)