Tuesdays With Morrie: an old man, a young man, and life's greatest lesson
Author : Mitch Albom
Genre : Philosophy, Self-Help, Literature, True Memoir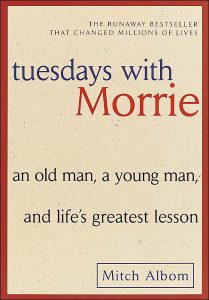 [Don't we all crave to grow wise, hoping to learn life's lessons from someone more experienced, who we can trust and who, we know, has a lot to offer. 
This real life story fills just that gap where a dying professor teaches his young student many deep lessons on life.
The book is written in a very easy and engaging style. The review below is written by my 12 year old daughter, Saania Saxena.
Would recommend  parents to use this book and initiate your teenage kids into serious reading. Saania loved this book!
Tuesdays with Morrie is a non-fiction true story in the biographical and philosophical genre. The main theme of this book centers around what a person can learn about life through death. In this book, there is a professor named Morrie Schwartz, who has a terrible disease, ALS. One of Morrie's students named Mitch Albom had Morrie as a professor in his college days. They met every Tuesday learning about the Meaning Of Life.
Morrie is a professor who finds out that he is dying in his late sixties. Mitch Albom happens to bump into Morrie during his final days of life, after almost 20 years. They plan to meet every Tuesday again like they used to in college years.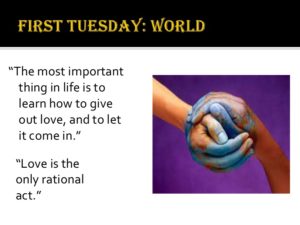 The first Tuesday they talk about the world. Morrie asking questions, listening to Mitch's replies, correcting and adding to it if he missed something, just like they used to do before. Mitch notices a pile of newspapers and wonders why Morrie would like to keep up with the world if he is dying anyway. Morrie answers by saying now that I am suffering I feel closer to people who suffer than I ever did before. Mitch asks Morrie why he cares for people he doesn't even know, Morrie gives a great life lesson – he says that the most important thing he is learning from his illness is to learn how to give out love, and to let it come in.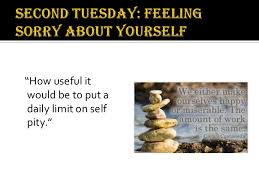 In the next chapter (the second Tuesday),  they talk about feeling sorry for yourself. 
Mitch asks Morrie if he felt sorry for himself, after this terrible disease struck him. Morrie says that he gives himself a good cry if he needs to but then he concentrates on all the good things that are still in his life, for example the people that come to visit him like Mitch.
This chapter basically tells us to try and look at the good side of things. Morrie has a life threatening illness and if he can look at the good side of things, anyone can. Many Tuesdays pass by and Morrie tries to tell Mitch as much as he could about life and how to really live before he died.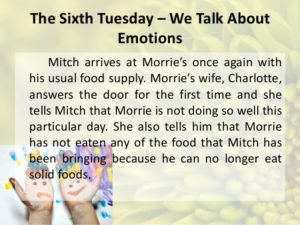 For example, on the sixth Tuesday they talk about emotions. This chapter was pretty interesting. It talks about detachment from an emotion. If you take an emotion – fear, for example (what Morrie is going through with his deadly illness), if you hold back on this emotion and don't  let yourself go all the way through this emotion, you can never be detached from it, because you are too busy being afraid of it. But by throwing yourself into this emotion and by experiencing it fully,  you know what that emotion is and you can get away from it. You can recognize that emotion and detach yourself from it. In this chapter, Morrie has a rough day and is coughing really badly. He tells Mitch that he doesn't want to die like this, choking and coughing his lungs out. He wants to die serenely and peacefully. This is where detachment comes in. If Morrie dies in the middle of coughing and choking, he needs to be able to detach himself from the horror and the pain. He needs to be able to know what is happening and accept it, get to a peaceful place and let go.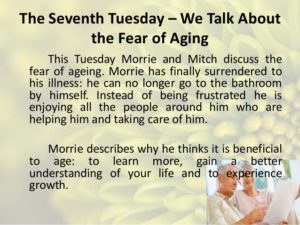 Similarly, on the seventh Tuesday they talk about aging. This chapter is also quite important for people who are old. Morrie now needs to depend on other people for almost everything, except breathing and swallowing, because of his illness, so Mitch asks Morrie if he is ashamed of it and Morrie replies by saying that he feels like a child again and he enjoys the dependency of feeling like a child. Later that day, they also talk about the fear of aging. Mitch asks Morrie if he ever was afraid to grow old, and Morrie says he has embraced aging. What Morrie basically says in this chapter is that as you grow, you learn more. People say growing older is pain and decay to your body but it is not just that. It is growth! It is more than the negative that you are going to die, it is also the positive that you understand you are going to die, and that you live a better life because of it.  Morrie also talks about people having unfulfilled lives. Many people wish to be younger again and very few people wish to be 65 or 80 years old. This reflects unfulfilled lives, lives that have found no meaning. If you have found meaning to your life, you would want to go forward, not backwards. You would want to move ahead, see more, do more.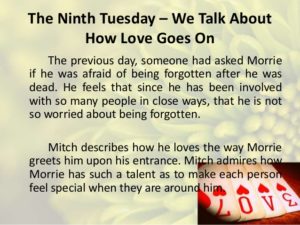 If you are always battling against getting older, you are always going to be unhappy, because you will grow old and die eventually. Another thing that really touched me in this chapter is the fact that we shouldn't envy younger people. Mitch asks Morrie if he envies younger and healthier people. Morrie answers this question brilliantly.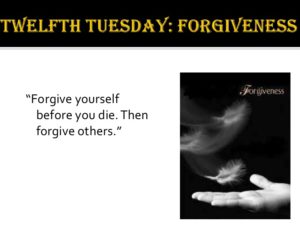 He talks about the detachment process again. The emotion in this case is envy and jealousy. Get away from it and detach it from yourselves. Morrie says its impossible for the old not to envy young. But the issue is to accept who you are and enjoy the stage you are living in. Looking back makes a person competitive and aging is not a matter of competition. We can delight in being a child when it is appropriate to be a child and we can delight in being an old man when it is appropriate to be an old man. Morrie concludes by saying that he can't truly be jealous and envious of a younger, healthier man when he has been at that stage himself.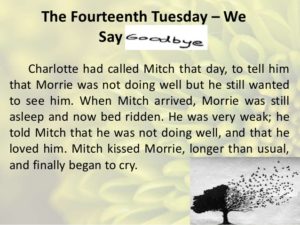 They keep talking on Tuesdays until they reach the Fourteenth Tuesday. In this chapter, Morrie is very unwell and is going to die and this will be Mitch's last visit. Morrie and Mitch say goodbye and Morrie tells Mitch that he loves him a lot.
Why should you read the book: So that is basically the summary of Tuesdays With Morrie. I really loved this book and it taught me a lot about life, things that we never actually realise in our everyday life. This book can be extremely helpful for a person who is dying, it makes us think about death in a not so sad way because majority of people are scared of death and think that death is evil and scary.
I also really think that this book has an impact on our life. While reading this book, I learnt quite a lot of lessons on life. So overall this book was brilliant and it definitely made me look at death in a different way and it taught me how to live life in a better way.
Goodreads Link: Tuesdays with Morrie by Mitch Albom | Goodreads